***NEW*** hexa4GRIP® Spider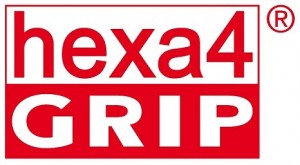 Thanks to the profile geometry of hexa4GRIP® Spider a large-scale contact to the ground is ensured. This is mainly supported by the sharp-edged, precise profiling with flex grooves. The profile depth of 3.0 mm gives enough room for water displacement ensuring enough grip for the soles even on wet and slippery floors such as for example humid ceramic tiles.
The structure of the individual profile blocks makes the outsole support in an optimum way the bio-mechanic course of motions from the first step via the controlled rolling motion until push-off the foot, this outsole being particularly sure-footed.
This sole is with its heel and ball point particularly attractive for sporty types of shoes.
Thanks to the quality that is millionfold proven in shoe production and orthopaedic shoe technology the sole is wear-resistant, impact-resilient, slip-resistant and can be sticked without problems.
Use: Generally used for all outdoor shoes, especially for walking and light trekking
Material: Very flexible, highly wear-resistant rubber compound with particularly high percentage of caoutchouc, very slip-proof.
colour:
86 black
sizes:
(36-38)
39-41
42-44
45-47
48-50
thickness: ca. 5,0 mm