hexa4GRIP® High-GRIP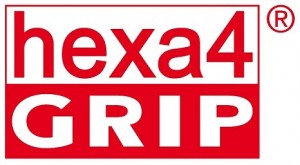 The hexa4GRIP sole sheet "High-GRIP" has been developed for real performance with the aim to achieve the maximum of slip resisting effect  for the "work shoe" domain as per Euro standard 20345 ff. This target has been reached thanks to the innovative profile design, a premium compound and the specially developed surface treatment. Two independent testing institutes (PFI & TÜV) confirm excellent slip resistance. Apart from these laboratory results we carried out wearing tests with the "High-GRIP" sheet in different scopes of application which resulted in a fantastic feedback, too.
In the field of work shoes the first series have started running. The material is, however, most suitable for the leisure / outdoor  and other domains, too. Highest grip on varying undergrounds, an optimized dirt ejection  in conjunction with long life time will convince in any field of application.
The nitrile rubber quality used is antistatic and oil, fuel and acid resistant.
size: approx. 61 x 111cm = 0,6771 sqm
thickness:
approx. 4,5 mm
approx. 6,5 mm
colour:
56 negro
71 light gray
86 black
hardness: approx. 60 shore A
density: approx. 1,19 g / cm³
abrasive wear: approx. 115 mm³
delivery time : generally available from stock