hexa4GRIP® High-GRIP (Kopie)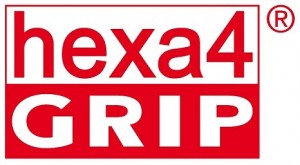 The  hexa4GRIP "Urban" outsole sheet has been developed for industrial application. The profile is known to you from the Urban sole. In order to ensure maximum utilization of the profile over the total surface we have launched this profile in sheets for the shoe industry in order to avoid substantial disadvantages when punching small sizes.
Optionally the material is very well suitable for leisure / outdoor and other purposes, too. Maximum grip on various undergrounds, optimized dirt ejection and long life will convince in any aspect.
size: approx. 61 x 111cm = 0,6771 sqm
thickness:
approx. 5,0 mm
approx. 8,0 mm
colour:
according to order
hardness: approx. 65-75 shore A
density: approx. 1,18 g / cm³
abrasive wear: approx. 150 mm³
delivery time : on request