***NEW*** hexa4GRIP® Alpha safety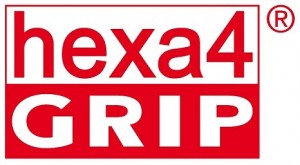 The hexa4GRIP® Alphasafety outsole sheet impresses with its unique design and excellent material properties. It was developed for the work safety shoe. Thanks to the now highly appreciated premium compound used, we have succeeded in providing the market with a further outsole sheet of the hexa4GRIP® series with a unique design.
In the area of work shoes for roofers, the first series are just starting. However, the material can also be used optimally in the areas of leisure / outdoor / etc. Highest grip on different surfaces, an optimized dirt ejection, combined with a long durability will convince in all areas.
The used nitrile rubber quality is oil, acid and petrol resistant and antistatic.
size: approx. 43 x 60 cm = 0,258 sqm
thickness:
approx. 4,0 mm
colour:
86 black
other colors on request
hardness: approx. 60 shore A
density: approx. 1,19 g / cm³
abrasive wear: approx. 115 mm³
delivery time : generally available from stock